Bootstrap Responsive Button
Overview
Flat design Bootstrap buttons. Easy customization.Support Font Awesome icon. Crossbrowser supported and Responsive. Up to 50 colors, 2 different shapes.
Well documented and super easy to customize!
Demonstration works ajax form

Code examples, Different sizes, Documentation
Examples
|
Documentation
Features
easy to use
build with bootstrap 3
about 50 variation
two type buttons
you can easily add an icon to the buttons to grab the attention of the user
Support Font Awesome
Refund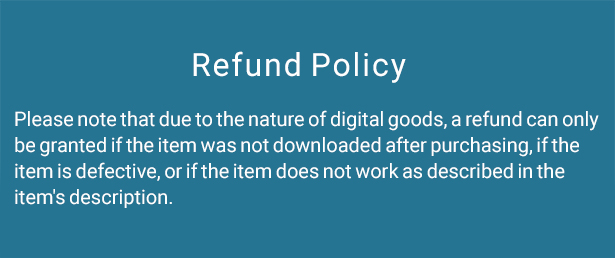 How to use
View Video on You tube
Support
Feel free to contact me if you have any questions regarding this item.
Regards,
Team Excellent Dynamics
Changelog
V 1.5.5 – 14/05/2019
-Documentation 2.0
-Bootstrap 3.4.1
-Font Awesome 4.7.0

V 1.5.1 – 1/09/2016
-Added Disablow Style

V 1.5 – 30/10/2015
-Added Ajax Form
-Update Documentation
-Added Ajax Validation Form
-Update style(style validation)

V 1.02 – 18/06/2015
-Added support tag <button></button>
-Update Documentation
-Form worked!(as HTML)

V 1.01 – 13/04/2015
- Added 10 colors
V 1.0 – 19/03/2015
- Initial release
لطفا ثبت نام کنيد اگر قبلا ثبت نام کرده ايد با مشخصات کاربري خود وارد شويد تا اجازه دانلود به شما داده شود.


نويسنده: excellent_dynamics
تاریخ ایجاد:

1399-02-12

اصلاح شده در:

1399-02-09

اندازه: 3.280 KB
نمایش ها: 463
تعداد دانلود: 0
قيمت: 4 $ »»

Free with active subscription